MINEX Forum has been created in 2005 as an open-end platform to stimulate international exchange of best mining and investment practices in Russia, Central Asia and Continental Europe.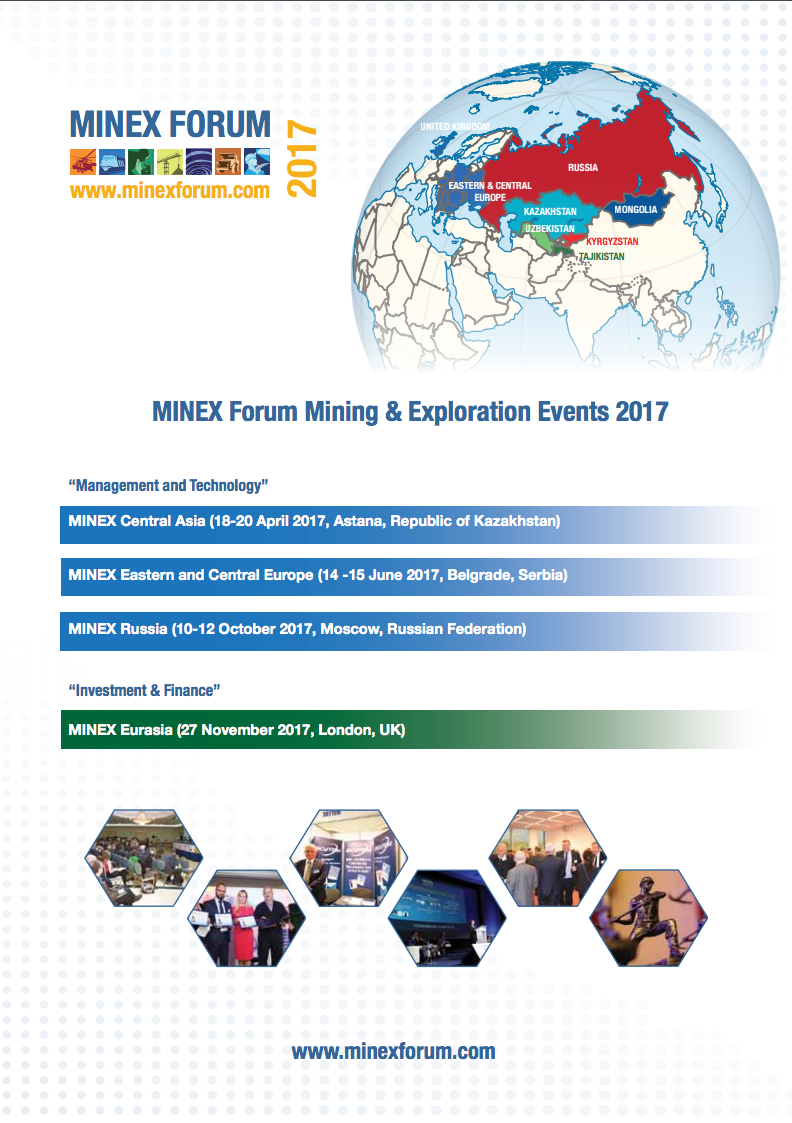 MINEX Forum network connects approximately 50,000 people .  Our main activities are focused on organising high-level mining events incorporating the following mainstream themes:
Government and Intergovernmental mining, trade and investment policies & initiatives
Mining financing and investment
Technological advancement in primary and secondary mining
Social, Environmental, R&D, Training developments in mining
MINEX Forum events 2017 
MINEX Central Asia | 18-20 April, Astana, Kazakhstan
MINEX Central and Eastern Europe | 14-15 June, Belgrade, Serbia
MINEX Russia | 10 – 12 October, Moscow, Russia
MINEX Eurasia | 27 November, London, United Kingdom
Social projects by MINEX Forum
Alongside these Forums MINEX secretariat will be holding events aimed at promoting mining innovation and investment across Eurasia.
Russian Mining Excellence Awards – an annual competition of projects and practices in the Russian mining industry
MineTech – a mining challenge case competition
MineVenture – presentation platform for investment and start-up projects
Eurasian mining information and networking platform 
Eurasia (Europe and Asia) covers over 30% of the global landmass area providing home to over 5 billion planet's population. While sharing the same geological platform, Europe and Asia distinctly differ, both politically and culturally. Through understanding the differences, sharing experiences and better communications, mining businesses will be better equipped for economic and geopolitical challenges ahead.
To provide regular information evolving in the Eurasian mining industries MINEX Forum has created MINEXForum.com – a Eurasian Mining Information and Networking portal.
MINEXForum.com provides timely information, news and analysys on Mining Innovation, Regulation, Trends and Investment across Eurasian continent. To subscribe to Eurasian Mining Digests register on www.minexforum.com
Authors' Club created at MINEXForum.com offers mining professionals, companies and investors an opportunity to connect, inspire and influence mining executives, experts and investors in our growing Eurasian mining network. Here's the link to the authors accreditation page – http://minexforum.com/en/become-author