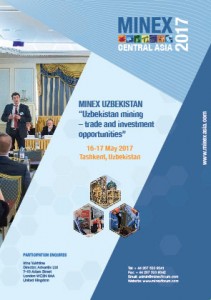 Uzbekistan is launching reforms to address pressing economic and social issues. The creation of free conversation of the national currency is the cornerstone of the reform. One of the objectives of the Government is to attract foreign investment in the development of country's mineral resources and modernisation of its mining enterprises which alongside the oil & gas and agriculture are the backbone of the country's economy.
Presently the Government of Uzbekistan is preparing important legislative acts, which will enhance the attraction of exploration and development of deposits of strategic types of minerals by foreign companies and investors. To review the draft please open the link (in Russian) – link 
MINEX Forum secretariat is working closely with the Government of the Republic of Uzbekistan and local industry stakeholders to organise MINEX Mining Trade and Investment seminar in Tashkent. The business program will consist of a full day seminar, one-on-one meetings and networking drinks hosted by the Embassy of the United Kingdom in Tashkent. After the seminar, the delegates will be able to visit historic sites of Samarkand or take part in Oil and Gas Uzbekistan Exhibition.
Applications must be submitted by 5 May.
NB: Uzbekistan entry visa processing may take up to 10 business days. Please check at your local consulate before registering
Agenda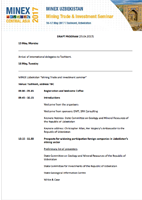 The Seminar is organised with the support of the the Committee on Geology and Mineral Resources of Uzbekistan, the Embassy of the Republic of Uzbekistan in the United Kingdom and the Embassy of the United Kingdom in the Republic of Uzbekistan.
The seminar will focus on trade and investment opportunities in the following sectors:
Gold mining (technological cooperation, production localization, exploration opportunities)
Coal energy (technological cooperation, production localization)
Rare earth metals (exploration, production, export)
Potash mining and fertilizers production (investment, exploration, production, export)
Main opportunities for companies and suppliers are:
Crushing, screening, drilling, digging equipment solutions;
Transportation and storage of bulk materials, parts and components for mining machinery;
Various mining vehicles and earth-moving equipment;
Processing equipment, equipment for tunneling, mining security equipment and technology;
Conveyor systems;
Technologies for deep exploration;
Adaptation of modern technologies in geophysics, geochemistry and 3D modelling;
Training of personal in geo exploration technologies;
Adaption of modern technologies for ore processing;
Various mineral exploration services and equipment.
Meetings and presentations:
Seminar participants will be able to meet and present their products, technologies and/or services to decision-makers from Almalyk Mining Corporation (AGMK), Navoi Mining Corporation (NGMK), Uzbekcoal, Uzbekenergo, Uzkhimprom, as well as from the Committee on Geology and Mineral Resources of Uzbekistan and the newly formed State Committee on Investments.
"Oil and Gas Uzbekistan – OGU 2017"
After the Seminar delegates will be welcome to visit the largest oil & gas Exhibition in Uzbekistan organised in Tashkent on 17-19 May. For more information, visit – www.oilgas.uz
Bookings
Costs: 
The seminar admission cost is $ 500 USD (per delegate)
The cost will cover admission to the Seminar, English-Russian translation, Refreshments, Drinks, Short company presentation (up to 10 minutes) and opportunity to meet the local companies and officials during the one on one meetings sessions at the end of the seminar.
Delegates will be expected to book their flight, accommodation and entry visa to Uzbekistan.
Opportunities
Navoi Mining and Metallurgical Plant
---
The Navoi Mining and Metallurgical Plant (NMMP) is interested in receiving commercial offers from the Seminar participants in the following areas:
Technology: Extraction and transport of hydrometallurgical production tailings. Road surface construction in underground mines. Design of the optimal systems for unstable ore body development.
Equipment supply: Tender is open for supplying equipment for open pit and underground mining operations.
Training: Training maintenance specialists for self-propelled underground mining machines. Accounting for the wear of parts, knots and aggregates. Planning and organisation of routine and preventative maintenance of imported underground mining machinery.
Proposals should be included with the completed participant form or submitted to admin@minexforum.com
Uzbekugol
---
The planned adoption of the new Resolution of the President of the Republic of Uzbekistan "On the development and modernization of the coal industry in 2017-2021" is nearing its final stages.
The draft of the document is already submitted for approval. The document outlines the proposed implementation of coalmine investment projects "Angren" and "Nishbash". During the construction of both mines it is planned to create modern coal mining complexes with fully implemented roof coal extraction technology.
1. Angren Coal Mine:
Project capacity – 4 million tons of lignite per year. Estimated cost of the project $ 165 million. The UzgolpromNIPI LLS is finishing the development of the OTEC project with the official Cabinet of Ministers approval expected in May this year. Project implementation period – 2017-2020.
2. Nishbash Coal Mine
Project capacity – 4 million tons of lignite per year. Estimated cost of the project $ 175 million. The institute will begin the work on the OTEC of the project after the Program is passed. Implementation period – 2018-2021.
At MINEX Uzbekistan Uzbekugol will present the main technical and economic parameters of these projects to consider possibilities of co-financing and subsequent participation in the project with foreign investors.
Sponsors
SRK Consulting is the world's first one-stop consultancy offering specialist services to mining and exploration companies for the entire life cycle of a mining project from exploration through to mine closure.
Among SRK Consulting's clients are most of the world's major and medium-sized mining houses, exploration companies, banks, audit firms and government departments.
Formed in Johannesburg, South Africa in 1974, SRK now employs over 1,500 professionals in 50 permanent offices in 22 countries on six continents.
In 2009 SRK Consulting opened its office in Moscow. Opening of the office in Russia has allowed SRK Consulting to provide its excellent quality technical solutions in Russian andwith consideration of the existing Russian legislation in the sphere of subsoil use.
SRK Consulting employs leading specialists in each field of science and engineering. Its seamless integration of services, and global base, has made the company the world's leading practice in due diligence, feasibility studies and confidential internal reviews.
White & Case is a truly global law firm, uniquely positioned to help our clients achieve their ambitions in today's G20 world.
As a pioneering international law firm, our cross-border experience and diverse team of local, US and English-qualified lawyers consistently deliver results for our clients.
In both established and emerging markets, our lawyers are integral, long-standing members of the community, giving our clients insights into the local business environment alongside our experience in multiple jurisdictions.
https://www.whitecase.com/law/central-eastern-europe/kazakhstan 
Uzbekistan Mining
Rare metals
About 40 rare metal (niobium, tantalum, beryllium, lithium, rubidium, caesium) objects have been identified in the Main Tien-Shan rare-metal belt.
Tungsten
Tungsten raw materials basis are provided by the famous tungsten ore mines (Lyangar, Ingichke, Koytash, Yakhton, Sargardon and others) and recently discovered fields Sautbay and ore showing fields of Sarytau.
Lead and zinc
Lead and zinc fields are represented by the fields of strata form type in the carbonate rocks (Uchkulach, Kulchulak), scarn (Kurgashinkan, Kumishkan) and pyrites in volcanogenic rocks (Khandiza and others). Explored reserves of the lead and zinc are concentrated in the deposits of Uchkulach and Khandiza. The copper, silver, cadmium, selenium, gold, indium are also detected in the Khandiza deposits.
Lithium
Approved reserves of lithium in the volcanogenic deposit of coal tufo siltstone of Shavazsay in Tashkent province are estimated at over 120 thousand tons of lithium dioxide, accompanying components – 3.2 thousand tons of caesium oxide and 8.9 thousand tons of rubidium oxide.
There are some tens of ore shows and deposits of iron. The largest Tebinbulak titan-magnetite deposits with resources worth 3.5 billion tons of ore (Republic of Qoraqalpoghiston), Temikan deposit of hematite-magnetite and magnetite ores with the reserves worth 105 million tons (Jizzakh rpovince) and Syurenata scarn-magnetetic deposit with the reserves worth 25.3 million tons (Tashkent province).
Manganese ore
Manganese ore shows are discovered in the territory of Uzbekistan. The mostly studied ones among which are the formation deposits Dautash, Kyzylbayrak, Takhtakaracha and others. It is required to additionally study the manganese bearing strips of Zarafshon and Gissar mountains. In Qyzilqum new type of manganese deposits in the cores ventilation have been discovered (Alisoy, Oqsoy and others).
Non-metal minerals
Shale oil is the additional source for getting the oil products as well as a number of nonferrous and rare metals. Estimate researches within the basins of shale deposits in Syrdaryo and Amudaryo basins, traced in the neighbouring states – Tajikistan, Turkmenistan, Kazakhstan witness the significant resources, preliminary estimated at 93 billion tons, including 47 billion tons in Uzbekistan. In the southern and western Uzbekistan the reserves of Baysun, Djam, Urtabulak, Sangruntau, Aktau, Uchkyr, Kulbeshkak have been estimated.
Uzbekistan also possesses significant potential of non-metal minerals. These are the broad and various group of minerals used in the industries of Uzbekistan. 70 types of minerals are included to the above group – ore mining and chemical mining raw materials, construction materials. Workable stones shows are also broadly represented. Hydro-mineral raw materials (iodine, brome and others) are being consequently studied which are extracted from mineralized underground waters, including incidental water of oil and gas wells.
The deposits of grain phosphorites similar to Marrakesh type are discovered in Central Qyzylqum. 53 million tons of phosphorus anhydrite of Jeroy-Sardara deposit with the estimate resources worth 100 million tons have been put to development. The North Jetymtau deposit with the reserves of phosphorus anhydrite worth 10.1 tons and Karakatin deposits (Aznek, Ayakuduk areas) with total reserves of phosphor five oxides worth 8.2 million tons have been developed. In Uzbekistan there are more than 30 deposits and shows of graphite. The largest deposit of commercial interest is Taskazkan deposit in Bukhara province with the reserves worth 2.3 million tons of ores.
Potash
Raw materials sources for production of potash containing manure in Uzbekistan are represented by the Tyubegatan deposit of potassium chloride with the reserves worth 247.6 million tons where the potassium chloride content is 36.8 %. It is possible to extract the concentrate of 96-97% of potassium chloride with the table salt produced as by-product. On the basis of this deposit Dekhqonobod Factory of Potash Manure is being constructed these days.
The stone salt resources are estimated as much as 90 billion tons and represented by Khodjaikan, Tybegatan, Baybichekan deposits in southern Uzbekistan and Barsakelmes, Akkalin deposits in the Republic of Qoraqalpoghiston. Kungrad soda ash factory operates on the basis of Barsakelmes salt deposits and Jamansay limestone deposits, with the capacity of 270 thousand tons of soda ash and 100 thousand tons of caustic soda a year.
The potential of the Karmanin deposit of silica-fieldspar sands (reserves – 45 million tons, resources -35 million tons) may meet the demand in high-grade stock for porcelain, glass and ceramic production of the whole Central Asian region.
In Uzbekistan the bentonites, bentonite containing clays and glauconits are also being researched which are used to increase the productivity of irrigated lands. These materials' resources contained in the deposits of Arabdasht, Khadag, Azkamar and others are quite significant.
Construction materials
Construction materials. Over 600 deposits of brick, cement, haydite raw materials, cutting stone, gypsum, limestone, construction and facing stones and others have been explored which serve basis for production of cement of various grades, light and heavy filling agents of the concrete, heat insulation, astringent, roofing materials as well as ceramics, glass, asbestos cement tubes/pipes, and others. Uzbek decorative facing stones – marbles, granites, gabbros and others are very popularly used in the country and abroad.