The 8th Mining and Exploration Forum – MINEX Central Asia will be held in Astana, Republic of Kazakhstan on 18 – 20 April 2017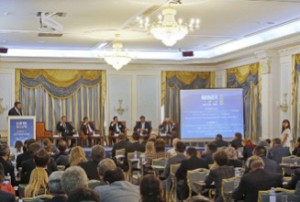 Organised under the slogan "'Developing balanced regulation and technological competence for successful mining", MINEX Central Asia 2017 Forum will bring together government regulators, mining companies, investors, experts, financiers and service companies from Central Asia and overseas. The Forum will offer an industry-wide discussion platform organised on the backdrop of the strategic rethinking of the economic priorities and emerging role of the mining industry as a potential backbone for economic growth of the mineral-rich countries of Central Asia.
The Forum agenda will cover the following main areas:
• Managing projects in evolving regulatory environment
• Adapting new technologies (from exploration and mining to processing
and mine site reclamation)
• Exploration and mineral resource development
• Funding mining and exploration projects
Local and international companies whose professional interests are aligned with the Central Asia Mining Industry are cordially invited to shape up ideas and present their vision for new business and investment opportunities at MINEX Central Asia 2017 Forum in Astana.
About the Forum
Quick facts 
300 + delegates from 23 countries
30 + exhibitors
70 + speakers and panellists
10 + corporate sponsors
15 + media and trade publication partners
Over 40% delegates are CEOs and board members
Forum profile  
One of the largest international influential events in mines & mining industries in Central Asia
Outstanding presentations covering the relevant hottest topics and concerns of the mining industry
Proven communication platform for international and local mines & mining industries enterprises
Wide coverage of mining projects and experiences in Central Asia
Meeting opportunities with  mines & mining industries leaders
Presentation of investment opportunities in Kazakhstan, Tajikistan, Kyrgyzstan and Uzbekistan
Attendee profile
Academics
Consulting services
Equipment producers
Exploration companies
Financial services
Geoscientists

Government representatives
Legal and audit services
Mining companies
NGOs
Personnel services
Technological companies
Challenges
MINEX Central Asia Forum – addressing Mining Challenges
To maintain sustainable development, mining companies need to continuously invest in the renewal of mineral resources, infrastructure development, personnel training and business processes improvement. The prolonged period of low prices and unstable demand for metals continued to weigh on the investment attractiveness and profitability of the mining businesses in Central Asia. Against this background, most companies continue to give priority to the optimisation of production, ensuring profitability and ROI, and the consolidation of assets.
Constant improvement of efficiency and reduction of costs presents a great challenge to many mining enterprises, as mistakes can be very costly. The success of modern mining enterprise relies on many internal and external factors. How efficient is the management? Is there a good knowledge and skills set? Do the leaders and operational managers work in sync and share the same goals? Are the right technologies and equipment being used to achieve best results? Is there a culture for innovation and self-improvement? The word "innovation" is no longer a tribute to fashion.
Ability of companies to innovate is the main pre-requisite for keeping up with the low margins and challenging environment. MINEX Central Asia 2017 Forum will stimulate practical discussion on how local and international businesses innovate to meet regulatory changes, adapt new technologies, manage social and safety pressures, fund and develop projects, and much more.
Opportunities
The Forum offers opportunities 
to discuss changes in mining regulation in the countries of Central Asia
to present investment projects and industrial developments
to organise meetings with potential investors and partners
to examine alternative funding options for developing projects
to facilitate cross border trade and investment discussions
to improve practical knowledge of local mining managers and specialists
to introduce innovative technologies and solutions in exploration, mining and processing
to benchmark the region's subsoil use practices with the international standards
to share experiences in improving operational processes throughout the entire production cycle of a mining business from exploration to reclamation
Examples of business development events organised at the Forum in 2016
• Business Sweden and the Foreign Affairs Ministry of Sweden organised business development events for Swedish mining equipment manufacturers and service companies.
• UK Trade and Investment and British Embassy in Kazakhstan held series of meetings with Kazakhstan's key Ministries and Mining companies to discuss opportunities for cooperation with the UK in technology, finance, education and investment.
• Autonomous Cluster Fund and McKinsey signed agreement to establish in Almaty the Knowledge Centre for Mining and Metallurgical complex.
• Air Control and AMG signed a cooperation agreement in the field of geophysical research.
• Heads of JSC Kazgeology and DMT Group held talks on cooperation for provision of training and creating laboratories for assessment of mineral deposits.
• Kazakh and Hong Kong junior companies presented projects to the group of financiers and investors.
• British Chamber of Commerce organised a round table on FDI climate in Kazakhstan's mining industry.
Events
MINEX Central Asia Forum 2017 events at a glance
18 April – Pre-forum events at Park Inn Hotel
Master classes and short training courses
Evening drinks
Exhibition set-up at the Radisson Astana Hotel
Associated events
19-20 April – Forum and Exhibition at the Radisson Astana Hotel
Plenary sessions and panel discussions
Technical sessions
Mining Trade, Technology and Investment Show
Round tables
MineTech – mining technical challenge competition
MineVenture – competition of early stage investment and start-up projects
Presentations and meetings with international trade delegations
Themed lunch interactive round tables
Networking drinks (19 April)
Gala dinner (20 April)
MineTech contest awards (20 April)
Associated events