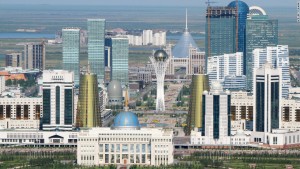 Organised under the slogan «Developing balanced state regulation and technological competence for successful mining» MINEX Central Asia 2017 offers wide scope of events offering greater engagement, communication and learning opportunities.
Mining and extractive industries are playing vital role in the national economy of Kazakhstan. The key to sustainable development of mining industry lies in the renewal of mineral resource base, development of infrastructure and introduction of more efficient solutions to reduce the costs and improve efficiency.
The prolonged period of low prices and unstable demand for metals continues putting pressure on investment attractiveness and profitability of mining businesses. To attract more foreign investments into geological exploration Kazakhstan is introducing a package of amendments. Last year Kazakhstan has implemented CRIRSCO-Kazakhstan Code – a state system of subsoil use management, classification and accounting of solid minerals. Embedding the international standards into the state regulation will create a level playing field for subsoil users and potential investors in terms of getting access to and assessment of geological data.  Prepared under the internationally recognised standards Kazakh projects will become more transparent and attractive for international investors.  The Government is also considering tax incentives and prepares the land reform. By the end of 2017 Kazakhstan will adopt the "Subsoil and Subsoil Use" code. The Code will remove many of the existing administrative barriers and ease the access to geological information.
Earlier this year, President Nazarbayev announced the third modernization program aimed at ensuring the global competitiveness of the country. Under this program the geological and mining industries are expected to commence accelerated technological modernization to significantly improve production efficiency. The high priority will be given to the introduction of elements of the fourth industrial revolution, including automation, robotics, "Big data", Artificial intelligence, Industrial Internet and others.
We look forward to discussing at the Forum exciting opportunities for international cooperation in promoting market efficiency, implementation of advanced technologies, facilitating development of capital and financial markets, attracting junior and mid-tier companies to increase efficiency of exploration of Kazakhstani resources.