Forum Proceedings

On-line access to the proceedings will be offered FREE of charge to the Forum delegates from 10 May 2017
Order Proceedings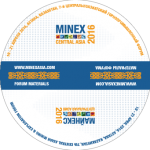 If you missed the Forum you can purchase proceedings and on a laser disc.  The proceedings will be available from 10 May 2017 and will include:
Slides presented during the Forum
Forum catalogue with information about presenters and exhibitors
Video recordings of the pre-forum Master classes
Video recordings of the Forum sessions and Associated events
Delegate list (without contact details)
Photos in high resolution taken during the Forum
Coverage of the Forum by 30+ national and international media
The cost is 200 USD
includes standard postage and online access password. Please ask for quote for courier delivery.
Order Proceedings materials 
---
Forum materials | MINEX Central Asia 2017